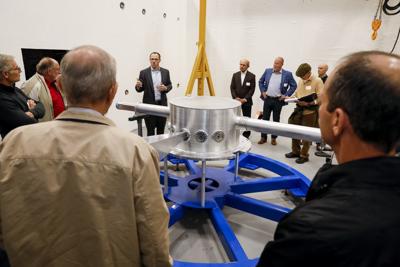 Advanced physics technology manufacturer Phoenix opened a neutron imaging center in Fitchburg last month that will help companies identify tiny flaws in aerospace and military machinery that could, if left unchecked, lead to disasters.
The Phoenix Neutron Imaging Center, which broke ground last year and held its grand opening Oct. 11, provides both X-ray and neutron imaging for various industries, including aerospace and defense. The center, shortened to PNIC, offers by-use prices to companies that may not be ready or may not be able to afford to purchase their own machines, which can cost anywhere from $1 million to $10 million or more, depending on how specialized the machines need to be made.
Phoenix, formerly Phoenix Nuclear Labs, established in 2005 in Middleton, designs and manufactures neutron and proton generators with high-speed particle beams that can pass through an object and create an image on a specialized screen. The beams can penetrate heavy metals, such as lead and uranium, without destroying the components being examined.
Machines at PNIC can scan items measuring a few inches to several feet tall and wide, said Phoenix president Evan Sengbusch. Although aerospace companies and the U.S. Army have been major users of this type of imaging, Sengbusch said Phoenix hopes that the by-use pricing at PNIC will open up a range of other industries that could benefit from the extremely detailed imaging Phoenix can provide, such as automotive or additive manufacturing.
"We're hoping that this facility gives other companies that don't historically use neutron radiography a chance to sort of try it out on their most difficult inspection challenges," Sengbusch said.
Sengbusch declined to offer cost amounts for imaging, adding that costs vary widely and are dependent on the materials being imaged.
Phoenix plans to break ground for another facility at the same site, near the Highway 14 and Lacy Road interchange, to construct a manufacturing headquarters. The 50,000-square-foot building in Fitchburg is expected to open next year. Phoenix currently manufactures its machines in Monona.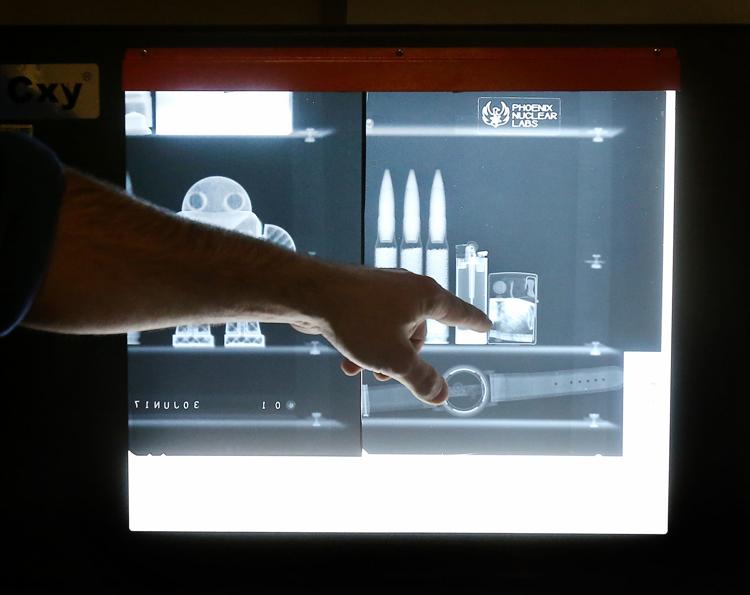 Sengbusch said aerospace companies often use neutron imaging on airplane turbines. Airflow channels need to be built into turbines to make them able to withstand the intense heat within a jet engine, and that process requires the use of ceramic materials which are later removed, he said. Any residual ceramic, even tiny amounts, can cause a blade to overheat and potentially cause problems during flight.
Most types of imaging cannot effectively show where low-density ceramics may be leftover when surrounded by high-density metals, but neutron radiography can, Sengbusch said.
Over the next several years, Phoenix plans to add 50 more full-time jobs to its current workforce of about 100 full- and part-time employees, Sengbusch said. The company is also considering options for another imaging center, which could be built in another region of the U.S. or in another country, he said.
"We anticipate this to be the first of many facilities like this," Sengbusch said.
SHINE awaiting approval
A spinoff of Phoenix, SHINE Medical Technologies, plans to use neutron generators from Phoenix to make molybdenum-99, a substance that decays into technectium-99m, a radioactive isotope used in millions of medical scans each year that is in short supply with high demand.
SHINE, which stands for Subcritical Hybrid Intense Neutron Emitter, is building a commercial production facility along Highway 51 in Janesville. SHINE's application with the U.S. Nuclear Regulatory Commission is under review.
"We have made great strides since receiving our construction permit from the NRC and our team is now focused on constructing our facility to establish a reliable, global supply of Mo-99," founder and CEO Greg Piefer said in a statement.
SHINE plans to begin production in 2021 with commercial production starting in 2022, according to a statement from the company.
Another Rock County company, NorthStar Medical Radioisotopes, of Beloit, also plans to begin production of Mo-99 within two years.