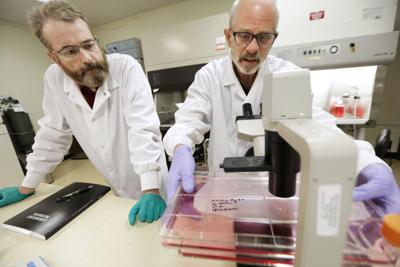 FluGen is just finishing one clinical trial of its universal influenza vaccine and the Madison company already is padding its finances to help pay for another one.
FluGen has received $5.6 million in debt financing from a total of 36 investors, according to documents filed with federal regulators.
The money will go toward manufacturing more vaccine to start a study next summer, CEO Paul Radspinner said.
"We're, obviously, very interested in how that's going to pan out," Radspinner said.
The phase 2 test of FluGen's M2SR vaccine, also known as RedeeFlu, is called a challenge study because it was an intentional mismatch of vaccine to virus. RedeeFlu was devised from a flu strain used in vaccines provided during the 2008-2010 influenza seasons. Subjects were then exposed to a flu virus linked to outbreaks in 2015.
"Only three places on Earth have approval for that kind of challenge study," Radspinner said. The others are London and Los Angeles.
"If we show any kind of efficacy, it would be the first time, to our knowledge, that anybody's been able to show that kind of effect," he said.
Radspinner said details of the next trial won't be determined until results of the most recent test are analyzed.
The premise behind FluGen's universal vaccine is that a person who contracts flu one season will have "dramatically" reduced odds of getting the illness the following year, Radspinner said.
"How do you re-create the immune reaction to the flu without making people sick? We remove a gene from the flu virus. … It allows the virus to go in and trick the body into believing it's being infected" and the immune system is triggered to provide protection, he said.
Llama antibodies
A report earlier this month in the journal Science said researchers at the Scripps Institute in San Diego have been able to create a different type of universal flu vaccine.
Theirs is based on antibodies made by llamas.
The researchers say a nasal spray made of four llama antibodies and a harmless virus "passed its first animal test, protecting mice from every known flu strain that infects humans," the Science article said.
Test tube studies showed the antibody combo prevented infection by 60 different influenza viruses, and mice given the solution had "significantly higher survival rates" than untreated mice when injected with various flu viruses, the article said.
Ian Wilson, a structural biologist at Scripps, told the magazine he's never seen a flu antibody "with greater depth and potency."
But Vanderbilt University immunologist James Crowe, in Nashville, "cautions that human immune systems may see the llama-derived proteins as foreign and develop antibodies against them," the article said.
Radspinner called the Scripps Institute research "exciting. It's another technology that's going to help flu vaccines become more effective down the road, so we welcome that."
He said the California flu vaccine is based on connecting numerous antibodies into a chain that would hit different components of the flu virus.
It's a very different approach from FluGen's, Radspinner said.
"It will be very interesting to see how successful it is in human clinical trials," said Radspinner.
"Mice and ferrets are one thing; humans are a completely different animal, as it were," he said.
FluGen, founded in 2007 based on research from the lab of UW-Madison professor of virology Yoshihiro Kawaoka, has 12 employees in Madison and three remote employees, and has raised $32 million from investors and $27 million in grants, mostly from the National Institutes of Health and the U.S. Defense Department.