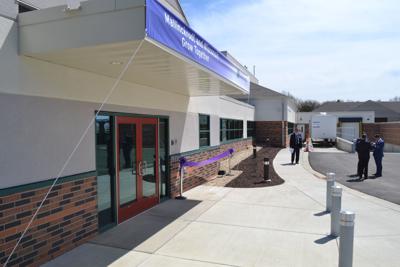 Stratatech's new 35,000-foot facility in the University Research Park on the city's west side will house 80 employees working on the commercial manufacturing of StrataGraft, lab-engineered patches of human skin tissue that can be sutured onto the bodies of severe burn victims. A group of company leaders and local politicians, including the likes of Gov. Tony Evers and U.S. Rep. Mark Pocan, inaugurated the building — an expansion of an existing facility — in a ribbon-cutting ceremony on Wednesday.
"It's exciting that Madison has become a life science hub, and the investment of significant resources to expand the manufacturing facility here is a testament to that," Pocan said in a prepared statement. "With Mallinckrodt as a life sciences partner, we can continue advancing our scientific understanding and strengthening Wisconsin's position as a leader in technology and innovation."
Lynn Allen-Hoffman, a pathologist at the University of Wisconsin-Madison, founded the company in 2001 to commercialize her research on the manipulation of progenitor cells into skin tissue. She stepped away from the company as its CEO after the acquisition, but is now Mallinckrodt's vice president of regenerative medicine. She was among those at the opening ceremonies on Wednesday.
"I always emphasize that this is an incredible example of the Wisconsin Idea. Something started in the University of Wisconsin, and was able to be translated to patients," said Allen-Hoffman.
"Lynn started nearly 20 years ago in the lab," said Steve Romano, the chief scientific officer for Mallinckrodt. "It's very unusual, even in industry, for anyone to work in the pre-clinical space, and then see what they've worked on reach the patient."
Progenitor cells, like stem cells, are biological building blocks that can change into different forms of tissue depending on their environment. They differ from stem cells in that they cannot reproduce indefinitely, and are limited in the type of cell they can grow into.
Like stem cells, however, they have come to play a key role in what's known as regenerative medicine – a field having to do with the restoration or regeneration of tissue, cells or organs in a body. Already, the StrataGraft product has been flagged by the Food and Drug Administration as a therapy with high regenerative medical potential.
The product is not yet ready for commercial manufacturing, since it has not yet gotten FDA approval – it is currently in the middle of its last phase of clinical trials. Mallinckrodt leaders say they anticipate approval by 2020, providing that the findings from the final trials are positive.