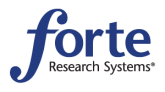 Forte Research Systems, formerly PercipEnz Technologies, Inc. (name change announced WiSJ Sept. 29, 2010). Founded in 2000 and headquartered in Madison, Wisconsin, Forte Research Systems develops and markets proprietary, enterprise-class clinical and translational research management systems for academic research organizations. By adopting a highly collaborative product development process, Forte gathers, distills and fine-tunes the best ideas from world-class research institutions to deliver solutions addressing key operational challenges. Forte was purchased by Primus Capital in April 2015.

Cellectar, Inc closed a reverse merger with the publicly-owned Novelos Therapeutics , Inc. (NVLT) (Press Release April 11, 2011) and will assume the Novelos name. Headquarters will remain in Madison, WI. Novelos will continue to develop Cellectars three novel cancer-targeted compounds designated HOT, COLD and LIGHT which are selectively taken up and retained in cancer cells, including cancer stem cells.
Hopster provides printable coupons on favorite household brands and allows the consumer to customize their experience. Using social influence, brand sharing and engagement, and purchase loyalty, the consumer can save more on everyday purchases, while providing the brand with valuable marketing data at the same time. Hopster was purchased by Inmar, Inc., a coupon processor.

MyAlerts has built the premier E-Commerce Customer Engagement Platform allowing its customers to create individualized engagement events with their consumers. MyAlerts monitors sites, pages, and searches to alert consumers when desired criteria are met. The Company serves 30+ customers and their 8,000,000+ consumers creating 80,000,000+ individualized engagement events annually. MyAlerts was acquired by ESW Capital in June, 2018.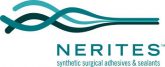 Nerites Corporation was acquired January 31, 2011 by Kensey Nash Corp. of Exton, PA (Journal-Sentinel Online 1/31/11) for $20 million in cash. Nerites is developing novel medical devices based on technology derived from mussels from the ocean that are breakthroughs in providing new options for tissue repair and device coatings.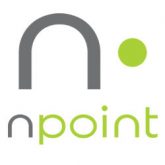 nPoint, Inc. designs and manufactures piezo flexure stages and nanopositioning electronics for OEM, industry and research.  nPoint The Company was acquired on December 31, 2019 by Motion Solutions (Bearing Engineers, Inc.).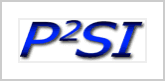 Performance Polymer Solutions Inc. (P2SI) was founded in 2002 to develop and commercialize high performance polymer products used primarily in aerospace and defense markets. Since its inception P2SI has successfully launched a variety of new products, including polyimides for advanced composites, fiber sizings, thermally stable adhesives, preceramic polymers, and carbon nanofiber treated yarns and textiles.

Stratatech Corporation is a regenerative medicine company focused on the commercialization of unique, proprietary skin substitute products for therapeutic and research uses. The company was founded in 2000 to commercialize an extraordinary discovery made at the University of Wisconsin-Madison. Stratatech was acquired by Mallinckrodt, a U.K. pharmaceutical firm, in 2016.

TermSync uses a Software-as-a-Service platform for an Accounts Receivable automation platform that helps companies improve customer relations, reduce processing costs, and get paid faster. TermSync was purchased by Esker, a document process automator.