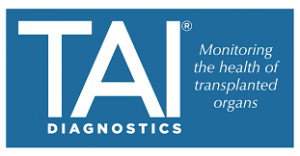 TAI Diagnostics, Inc. is a biotechnology company focused on providing non-invasive and highly sensitive diagnostic tests to monitor the health of transplanted organs in patients who have received solid organ transplants. 
Abstract Heart transplantation is a well‐established therapy for end‐stage heart failure in children and young adults. The highest risk of graft loss occurs in the first 60 days post‐transplant. Donor fraction of cell‐free DNA is a highly sensitive marker of graft...
MILWAUKEE, Wis.–(BUSINESS WIRE)–TAI Diagnostics, Inc., focused on developing innovative diagnostic tests for monitoring the health of transplanted organs, today announced the publication, "Effect of endomyocardial biopsy on levels of donor-specific cell-free DNA" in the October, 2019 issue of The Journal of Heart and Lung Transplantation. The clinical study presented in the paper was conducted jointly by Steven Zangwill, MD, Karl Stamm, PhD, Mats Hidestrand, PhD, Aoy Tomita-Mitchell, PhD and Michael Mitchell, MD.