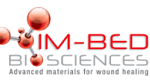 Imbed Biosciences Inc. is a tissue engineering company commercializing advanced materials for soft-tissue repair.  MicroLyte® Ag is a bioresorbable matrix that provides a template for cells to migrate onto, and simultaneously kills bacteria hiding in deep crevices.
Imbed Biosciences Inc., a closely-held biotech that makes a product for pain and infections in complex wounds, says a reformulation of its biggest product as a nasal spray could help prevent the spread of Covid-19.
Imbed Biosciences announced today the results of a first prospective clinical evaluation of its next-generation wound dressing, Microlyte Matrix, in complex chronic wounds.
September 27, 2019 06:40 PM Eastern Daylight Time MADISON, Wis.--(BUSINESS WIRE)--Imbed Biosciences, Inc. (Imbed) announced today that it has been awarded a $1.5 million two-year Small Business Innovation Research (SBIR) grant from the National Institute for Arthritis...